Our products at a glance

Treatment Systems
Gravity feed 7500L waste Water Treatment system
The 7500L single domestic wastewater treatment system is designed for the usage of up to 10 people in a single dwelling.
The Irish Agrement Board approved it in 2003. The system was subsequently tested in PIA, the European test centre for small packaged wastewater treatment systems. It has the EN12566N:part3 certification for sewage systems for single domestic dwelling houses.
The system was tested and approved for water tightness, structural behavior and treatment efficiency. The results are available on the test certificate. It is a full concrete tank weighing 10 tons with 4″ concrete steel reinforced walls and a 6″ steel reinforced concrete lid. It is deemed to be the strongest tank in Europe from the test centre in PIA. The internal parts of the tank are designed to have a lifespan of in excess of 25 years with the exception of the electric pump, therefore giving the homeowner few callouts and maintenance charges. The tank can be used in a gravity flow system or a raised percolation system.
Dimensions
11ft 8″ long, 7ft 3″ wide and 6ft 6″ deep. The inlet pipe is 56″ (1420mm) from the bottom of the pipe to the bottom of the inlet hole.
Downloadable PDF Reports

18 ″ inspection Riser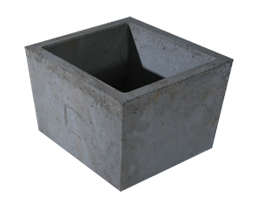 This is a concrete box that allows the lids of 'Doran concrete' tanks to be raised. These tanks include septic tank systems, percolarion boxes, wastewater treatment systems and 9000l storage tank.
They are used where the tank is too deep in the ground and the inspection covers need to be raised up. You remove the existing cover, place the riser on top of the tank and put back your original lid on the top of the riser. The riser gives an additional 18" to the top of the tank for access.
Dimensions
24″ long, 26in wide and 18″ deep.

Raised Percolation 7500L waste Water Treatment system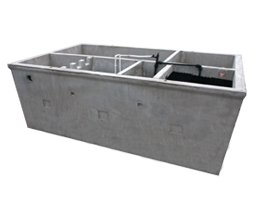 The gravity feed treatment plant is available as a raised percolation system. This system uses an industrial pump in a domestic application. This gives you a peace of mind that the pump to raise the final treated waste water should last in excess of 20 years. The raised percolation system comes complete with raised percolation pump, non-return valve, alarm float, control panel and ancillaries.

Back to the top