Our products at a glance

Sump Chamber
100 gallon sump chamber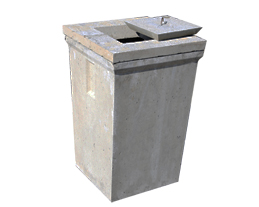 This is a chamber typically used as a silt trap or a pumping station. The chamber is designed to accommodate a submersible pump. This pump station can pump grey water from the outlet from a septic or effluent tank, to a percolation area or a treatment zone.
The unit is available as a tank only or as a complete package including a pump, a non-return valve, a 90 degree elbow and ancillaries. The size of the pump would be decided upon, following a discussion with the clients needs for the pumps application.
Dimensions
Width: 2ft 10″ (865mm).
Depth: 2ft 10″ (865mm).
Length: 4ft 6″ (1380mm).

Back to the top